Custom Software: Driving Efficiency in Transportation
In a rapidly evolving industry like transportation, the right technology can set you ahead. At Smithing Systems, we specialize in bespoke software solutions tailored to your operational needs, ensuring enhanced efficiency and resilience in your daily tasks. Let's redefine what's possible for your business.
Unique Challenges of the Transportation Industry
The transportation industry encounters numerous unique challenges that involve fleet management, logistics, information flow, data security, and compliance with regulations. Understanding and managing these issues effectively is critical for success in this rapidly evolving field.
Fleet Management
Managing vehicles and drivers, scheduling maintenance, and ensuring compliance with safety standards.
Personnel Management
Hiring, comprehensive training, driver retention, hour management, and legal matters.
Information Flow
Managing the large volumes of data, from tracking vehicle locations to updating delivery statuses.
Data Security
Safeguarding sensitive information, such as driver details, customer data, and financial transactions.
Logistics
Coordinating between different transportation modes, managing freight, and ensuring efficient delivery routes.
Customer Satisfaction
Ensuring timely deliveries, maintaining the quality of goods, and providing excellent customer service.
Digitalization
Implementing advanced technology for fleet management, logistics, and business automation.
Sustainability
Balancing operational efficiency with sustainability goals, such as reducing carbon emissions and waste.
Regulatory Compliance
Adhering to evolving regulations and ensuring compliance with local, national, and international laws.
Cost Control
Managing costs related to fuel consumption, vehicle maintenance, workforce, and infrastructure.
Risk Handling
Effectively and proactively managing accidents, cargo loss, handling delays, and potential contractor insolvency.
Business Innovation
Adjusting business models to accommodate emerging technologies like autonomous vehicles.
How Custom Software Can Help
A well-designed custom software solution can profoundly transform your operations, catering specifically to the unique demands of the transportation industry. Imagine a day where your fleet managers have real-time insights into every vehicle's location, expected maintenance needs, and optimal routes all at their fingertips. Drivers equipped with intuitive mobile apps, making route management, and schedule updates as easy as a tap on their screens.
This automation significantly reduces manual errors, saving time and resources, allowing your team to focus on more crucial tasks. But it doesn't stop there. Your custom software will also enable data-driven decisions, providing predictive analytics on traffic, suggesting optimal routes, or even anticipating maintenance needs based on vehicle usage patterns. This level of insights leads to strategic planning, resulting in increased operational efficiency and ultimately, profitability.
Would you find these pieces of information interesting?
Use case
A prime example of our work is our collaboration with Ravapi, the largest fleet partner of Uber and Bolt in Poland. We developed custom operational management software for them, resulting in substantial improvements in their daily operations.
Background and Challenge
RAVAPI Services, Uber and Bolt's leading fleet partner in Poland, manages a large-scale operation with over 10,000 drivers across Eastern Europe. The need to efficiently manage their vast workforce and streamline administrative tasks presented a unique challenge.
Our Solution
In response, we developed a custom software solution for RAVAPI. This system automated key operations like vehicle tracking and personnel management, resulting in increased productivity and improved data security. The intuitive interface benefited both customers and employees, enhancing overall operational efficiency.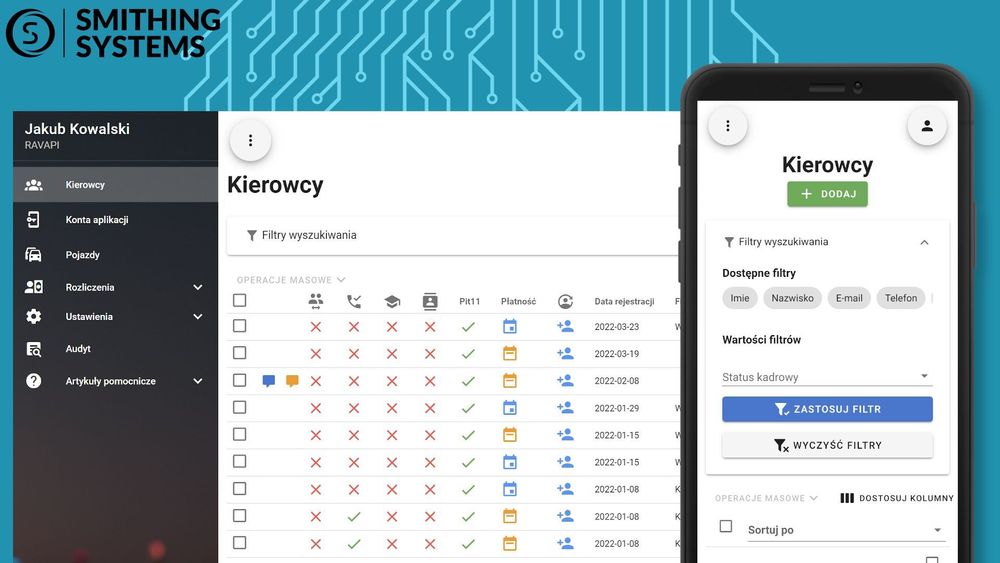 Our Services and Software Development Process
At Smithing Systems, we offer a full range of custom software solutions designed to meet your business needs. Our expertise spans business process automation, enterprise software development, and IT consulting services. We focus on providing innovative, scalable, and secure solutions that can adapt to your evolving business environment.
Our software development process is based on an Agile methodology. This approach promotes flexibility, swift delivery, and constant communication. It enables us to deliver solutions tailored to your specific needs. Throughout the development process, we ensure regular communication and provide transparency on the project status. Our commitment is to deliver high-quality software that aligns with your business objectives.